Finding yourself stuck on the lock screen and can't log in now? Because the stick keys were turned on. No need to worry? I've got your back! Especially if you're in haste and need to get back to your work. There's an easy fix to turn off sticky keys.
In this quick guide, I help you regain control in sticky keys mode and show you how to turn off sticky keys when laptop is locked or even on the desktop.
How to Turn Off Sticky Keys When Computer is Locked?
Method 1 – Pressing SHIFT Key
To switch off Sticky Keys when your PC is locked, the simplest method is using your keyboard. How? Just press the Shift key five times in a row. This should begin with a high-pitched sound and a prompt asking if you want to turn on Sticky Keys.
When you see this, click 'No'. If your computer's sound is active, you'll hear a sound indicating that Sticky Keys have been disabled.
But here's a tip: If you don't hear any sound or the prompt of 'Do you want to turn on Sticky Keys?' doesn't appears, press the Shift key a few more times fastly until a dialog box pops up asking. This process should work on Windows 11 too.
If the SHIFT key method fails, try the following method.
Method 2 – Ease of Access Option
Another solution to turn off Sticky Keys on a locked computer is the Ease of Access Option on the login screen. Here's how it works:
While the Windows sign-in screen appears as your device boots up, find the Ease of Access icon, usually located at the bottom right corner of the screen. Click on it to see the option to turn Sticky Keys on or off. To turn off Sticky Keys, switch this toggle to the 'off' position.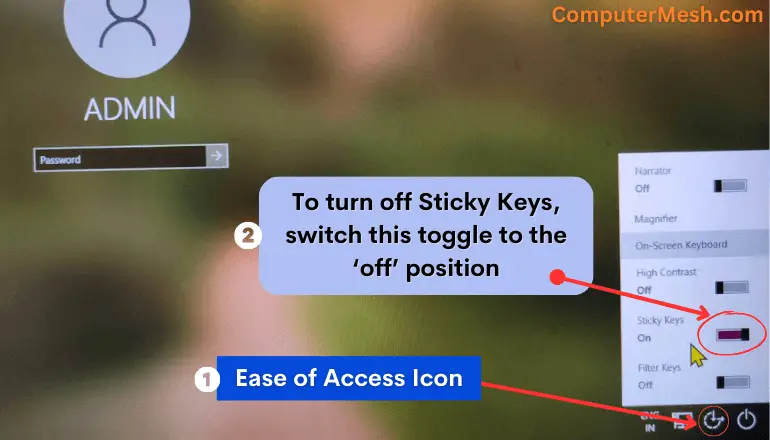 What to do if Either Not Work?
If the SHIFT key isn't working and you cannot use the Ease of Access option too to turn off sticky keys. Then what you can do is temporarily enable the built-in Administrator account to login and there to disable the Sticky Keys feature, log out to return to your regular account with turned off sticky keys.
Method 3 – Use Built-in Administrator Account
Here are the step by step process:
While on the login screen, hold down the shift key pressed and click on the Power button, usually located in the lower right corner.
After clicking the Power button, click "Restart" while keeping the Shift key pressed.
Maintain your hold on the Shift key as your machine starts the restart process. As soon as the Advanced Recovery Options menu appears on your screen,

you can release

the Shift key. 
In the Advanced Recovery Options menu, locate the option that says "Troubleshoot" and click on it.
Here, look for the "Advanced options" and click on it. 
In the list of Advanced options, click on "Command Prompt". 
Now that you have the Command Prompt window open, type in the following command: net user administrator /active:yes (this command activates the hidden administrator account on your system).
After successfully executing the command, close the Command Prompt window by clicking on the "X" at the top right corner of the Command Prompt window. After closing, restart your computer normally while on the login screen, the same way from where you clicked the Power button.
Upon the system reboot, on the login screen, you should now see an additional account labeled "Administrator." This account was hidden by default, and by using the previous steps, you have activated it. As set by Windows default, this Administrator account does not have a password. This means you unlocked Windows in sticky keys mode, and you can easily deactivate it without any issues.
For this, manually turn off sticky keys from your control panel:
Turn off Sticky Keys from your Control Panel
To begin, use Windows Search to open the Control Panel by searching it > Next, hit up the Ease of Access Center > click "Make the keyboard easier to use." After finding a checkbox associated with Sticky Keys, uncheck the box next to "Turn on Sticky Keys" to deactivate it.
Additionally, if you want to configure Sticky Keys further, a link text "Set up Sticky Keys" is located beneath the option. Click on that to access the page where you can customize your preferences. Here, you'll find options to set up Keyboard shortcuts, Modifier keys, and Feedback settings, including sound and the Sticky Keys icon related to the modifier keys.
I hope you will find this post on "How to Turn Off Sticky Keys When Computer is Locked?" helpful. If you have any issues feel free to comment.