USB was intended to simplify the connection of various devices (as its name says, 'Universal Serial Bus' – however, today, there are already so many "these ports" that it's no wonder one can get confused…
Even the difference between USB 2.0 and 3.0 is well known to many, but even so many experienced users may not see the difference between ports 3.0, 3.1 and 3.2. Indeed, in addition to versions, they are divided into several generations; Gen1, Gen2, Gen2x2.
That's why I decided to explain the differences between them and discuss the generations and features of those naming schemes here in this post.
USB 3.1 vs 3.2 (Gen 1 vs Gen 2 vs Gen 2х2)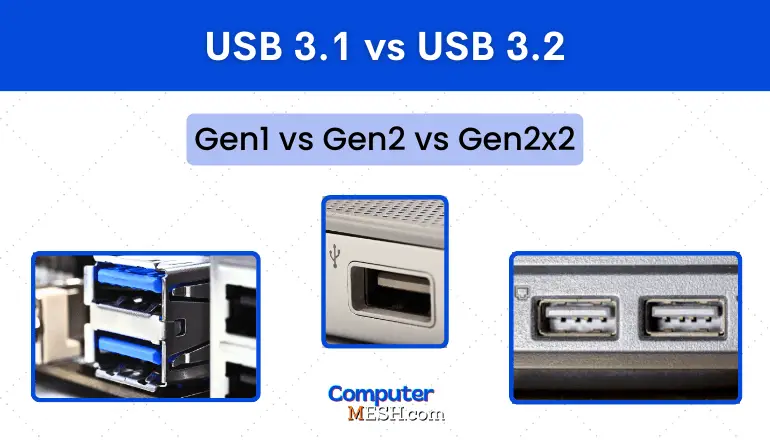 USB 3.1 (Gen 1 & Gen 2)
In 2013, the USB 3.0 standard appeared – its main innovation was in the data transfer speed of 5 Gbps and type-A connector. In addition, a new type of port geometry has appeared – Type c (firstly, it has become smaller and can even be placed on a phone; secondly, the plug can be connected to it from either side).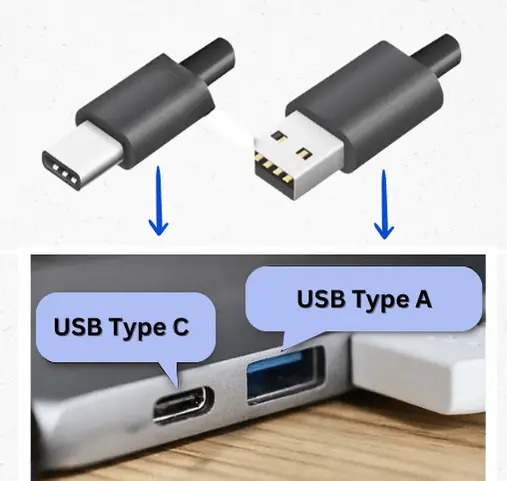 USB 3 further:
with speeds up to 5 Gbps (SuperSpeed) – classified as USB 3.1 Gen 1;
with rates up to 10 Gbps (SuperSpeed+) – classified as USB 3.1 Gen 2.
Note: All these USB 3.1 Gen 1 and Gen 2 are backward compatible with USB 3.0 and USB 2.0 standards.
USB 3.2 (Gen 1 & Gen 2)
In 2017, a new USB 3.2 standard appeared. USB 3.1 Gen 2 speed increased to 10 Gbps. In addition, the previous abbreviations (names) were unified (changed). Thus, USB 3.1 Gen 1 was renamed to USB 3.2 Gen 1 and USB 3.1 Gen 2 – to USB 3.2 Gen 2.
All this new standard and naming scheme is maintained by the USB Implementers Forums (USB-IF). Here's the table below:
USB 3.2 Gen 2х2
USB 3.2 Gen 2×2 (20 Gbps) is 2X faster than its predecessor, USB 3.2 Gen 2 (10 Gbps). This speed of 20 Gbps is theoretically rate possible because the multi-lane operation meets the strong performance boost.
Since the release of the USB 3.2 standard, and during this time, it has gained high popularity – on all modern phones and laptops. However, the USB-C type is increasingly replacing the USB-A type (as EU regulation obliges Manufacturers to unify everything to USB-C to create a universal adapter and power supply).
Because USB type-C offers various improvements in speed and durability over USB Type-A, including multi-lane operation capability and a reversible connector, it has become the main interface when using USB 3.2 Gen 2×2, and thus, the above-mentioned transfer rate of 20 Gbps is only supported by the USB Type-C connector. 
But remember, not all USB-C ports are USB 3.2 Gen 2×2. A USB-C port can be either USB 3.2 Gen (20Gbps) 2×2 or USB 3.2 Gen 2 (10Gbps). 
What devices support USB 3.2 Gen 2×2?
What about Thunderbolt™ and USB4?
One thing you need to be clear about: Thunderbolt and USB Type-C are different but related and often need clarification.
USB Type-C is a small, reversible and oval-shaped connector standard found on laptops, smartphones, peripherals, and many devices.
On the other hand, Thunderbolt is a technology developed by Intel and Apple that uses either a USB Type-C connector or Displayport Alt mode. Still, one significant difference is its higher data transfer speeds than any USB connection. For example, Thunderbolt 4 or USB4 is rated at 30/40Gbps of data transfer speed.
Yes, USB4, the newer and faster version of USB that is based on Intel's Thunderbolt protocol, often have Type-C. It promises to deliver data transfer speeds of up to 40Gbps, matching Thunderbolt 4. However, not all devices with a USB Type-C port will support USB4 as it requires compatibility.
Since USB4 and Thunderbolt 4 have the same speed, USB4 and Thunderbolt 4 differ in features, such as support for multiple 4K displays, PCIe data transfer support, and more robust power delivery not found in standard USB4.
With new generations of USB standards, we can only imagine the future for USB Type-C with even better improvements.
Here also, USB 4 is backward compatible with USB 3.2 and devices going back to USB 2.0, but you will need an adapter to plug the USB 4 cable's Type C connector into older USB Type-A ports.
USB 3.1 vs 3.2 (Gen 1 vs Gen 2 vs Gen 2×2) Summary Table
Other Names or Identical to 

Available in Connector type

Max Theoretical Bandwidth (bit)

USB 3.0
USB 3.1 Gen1
SuperSpeed

USB-A
USB-B
USB Micro B
USB-C

USB 3.1
USB 3.1 Gen2
SuperSpee+

USB-A
USB-B
USB Micro B
USB-C

USB4 Gen 2×2
USB4 20Gbps
USB4 Gen 3×2
USB4 40Gbps

10 Gbps, 20 Gbps, 40 Gbps
(depends on specs)
Important Note: Always ensure same of version/standard of USB on both ends of the connection to enjoy all benefits, if you have one lower standard on any end of connection you won't faster speeds.
USB Appearance Fact
Usually, the first thing people say about the external differences between 2.0 and 3.0 is colour. The old versions are black, and the new ones are blue. This is not entirely true. Even the USB-IF does not mandate USB ports to be any color.
The standard blue colour can be replaced with another, for example, red or green. So, on MSI motherboards, the branded red is used. Manufacturers also often differentiate 3.2 ports by color. For instance, Gen 1 is painted blue, and Gen 2 is painted green.