If you are one of the Nvidia's RTX cards user, you can use a special feature called DLSS to improve the frame rate performance of the game even if you want to improve more FPS rate in demanding games, like Hogwarts Legacy or Cyberpunk 2077 without sacrificing image quality.
For those who don't know, NVIDIA DLSS and its benefits
NVIDIA DLSS is an image smoothing technology that allows us to play at high resolution with high frame rates. It uses AI and the Tensor Cores of GPUs that scale down and then up the graphics, resulting in smoother visuals. In short, it allows us to play at a higher number of FPS without losing quality, which is especially beneficial for gaming at 4K and high resolutions.
With the recent release of DLSS 3, NVIDIA brought a number of improvements to its upscaling technology, most notably the new feature called Frame Generation allows AI to generate frames to achieve even higher performance, although latency may increase (one can use NVIDIA Reflex to reduce it).
How to Enable DLSS – 5 Steps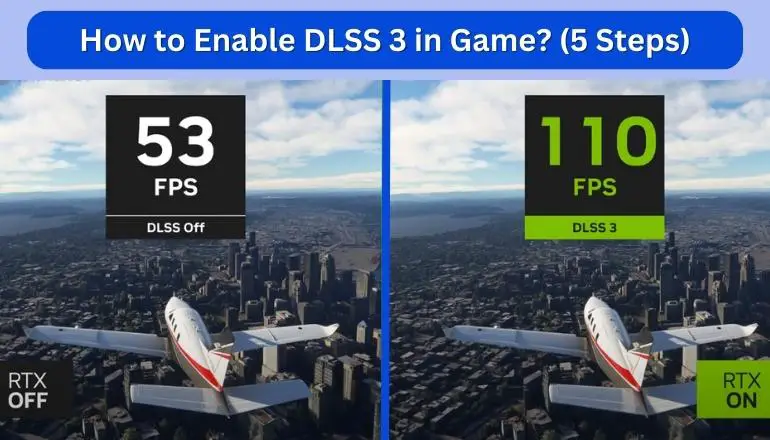 Here are the steps to enable DLSS 3 in your game, but you must use an RTX graphics card such as the 20, 30, or 40 series but not the GTX series or AMD's GPUs.
Step 1: Make sure GPU drivers are up to date
The first thing to do, and it is essential to work DLSS properly, is to make sure that NVIDIA drivers are updated. Download GeForce Experience software and open it. Click on the Drivers tab in the top left corner and check the top right corner to see if your graphics drivers are up to date. If not, a download option will be available.
Step 2: Confirm the DLSS Compatibility
Now it's time to check if your game supports DLSS. You can double-check compatibility via Nvidia's table list here, indicating whether the game supports DLSS 1, 2, or the newer DLSS 3. For example, Cyberpunk 2077 now supports DLSS3 and has improved performance.
Note – If your game is not on the list, it is incompatible with DLSS.
Step 3: Turn on Hardware-accelerated GPU scheduling
To take advantage of DLSS's full potential, "frame generation," you must turn on "hardware-accelerated GPU scheduling" in Windows settings.
To turn on GPU hardware scheduling in Windows 10: Open the Start menu and go to Settings > System. Select Display from the left side section. Under Multiple Displays, click Graphics Settings. Here, toggle on Hardware-accelerated GPU scheduling.
If you're using Windows 11, Open Windows Settings and go to System > Display. Then, click on Graphics in the Related Settings section. Choose Change Default Graphics Settings and turn on the toggle next to Hardware-Accelerated GPU Scheduling. After enabling this section, restart your PC to take effect properly.
Step 4: Enable DLSS in Display settings
Open the game, go to the in-game settings through the menu, and head to its display settings. Depending on the game, you'll find this under Video Settings, Graphics Options, or something similar. Look for a setting called "NVIDIA DLSS." or the option to enable DLSS. 
If not, you may need to enable RTX Raytracing in games like Battlefield V, which allows to activate the DLSS option. Some games also have an Upscale Quality slider for DLSS, so you can choose graphics quality or performance.
After switching on the DLSS, click the "Apply" button when you're done.
It is important to note that each game's process is more or less different. You just go to the graphic options and look for the section from NVIDIA DLSS, and activate the DLSS.
Step 5: Start the game to test the DLSS
DLSS should be activated now, but verify that it is working correctly. Start playing the game. It is challenging to tell a game's frame rate performance visually. Instead, use an FPS counter tool to compare the difference.
Nvidia and Steam have built-in features for this, or you can use third-party software like MSI Afterburner. If DLSS is functioning correctly, there should be an improvement in frame rate performance.
FAQs
Is DLSS for RTX only?

Yes, only Nvidia RTX 2000, RTX 3000, and RTX 4000 series of graphics cards support DLSS. No single GPU is compatible with DLSS from GTX series.
Can you use NVIDIA DLSS on any game?

No, not all games support DLSS technology, even the GTA 5 and Assassin's Creed Valhalla. Nvidia has a list of recommended and officially supported titles on its website. Also, new games are getting added to this list.
Which RTX graphic cards support DLSS 2 and DLSS 3?

RTX 40 series like 4090, 4080, 4070, 4070 Ti, 4060, 4060 Ti GPU supports DLSS 3 while RTX 30 series like 3090 Ti, 3090, 3080 Ti, 3080, 3070 Ti, 3070, 3060, 3060 Ti, 3050 and RTX 30 series like 2080 Ti, 2080 Super, 2080, 2070 Super, 2070, 2060 Super, 2060 supports DLSS 2.
Does DLSS work at 1080p resolution?

Yes, DLSS should work at 1080p resolution, but the results won't be as significant. It is best to use DLSS with higher resolutions for best results, like in Quad HD or 4K resolution.
Will DLSS work on GPU with a lower end processer?

If your computer is limited by another component, such as a low end processor or low RAM, the benefits of DLSS will be less and you won't notice a significant improvement with DLSS. It's also important to remember that performance gains will always depend on your graphics card as well as the rest of your specs.
With this, hopefully, you find the way to enable DLSS on your game.