Iris Xe and UHD graphics are part of Intel's integrated chipset architecture – meaning the GPU and CPU are built onto a single chip that will get you a display without requiring a separate (dedicated) graphics card.
This serves several benefits, such as reducing costs and energy usage, but primarily, it can help you overcome space constraints in tighter builds such as laptops or small form factors.
But one question still remains – Intel Iris Xe or UHD, which one is better? Read on ahead to find the answer, along with a few tips that will help you decide which one is better for you.
Intel Iris Xe vs Intel UHD Graphics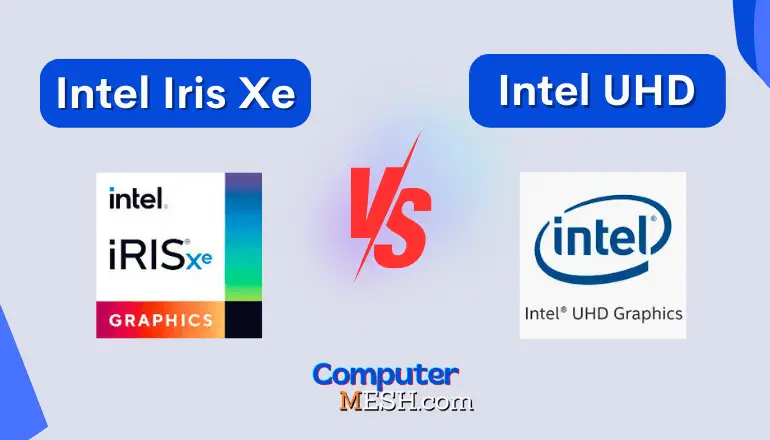 What Is Intel Iris Xe?
Intel Iris Xe series is one of Intel's top-of-the-line integrated graphics processors. Intel released the first set of Iris Xe Graphics back in Q3 2020 with its 11th-Gen processors. These were the company's response to customers' demand for better performance and speed.
The Xe architecture offers higher frequency, more memory bandwidth, and a greater number of execution units – the number of instructions that can be executed in a second (the higher, the better).
In 2023, Intel introduced 13th-Gen Raptor Lake mobile chips, a more advanced version of the Iris Xe Graphics – i.e., more execution units and increased speed.
Additionally, the 13th-Gen processors use a mode called "endurance gaming." This mode locks the game's FPS to 30 and then uses Intel's XeSS upscaling Ai technology to produce much better graphics like Nvidia's DLSS.
Notable Features
Iris Xe processors have a variable frequency ranging from the slowest at 950MHz to the fastest at 1.65GHz.
It supports a maximum resolution of 4096×2160 at 60Hz over HDMI.
It can also support 7648×4320 at 60Hz via DisplayPort than HDMI.
It is compatible with 4K and 8K displays.
Pros and Cons
✓ Can connect four HDR displays simultaneously.
✓ Provides high-quality video streaming with Dolby Vision HDR and Dolby Atmos support.
✓ Iris Xe architecture consumes less power, meaning your laptop battery will last longer.
✗ Only available on Intel's Laptop CPUs and other mobile devices.
✗ Graphics-intensive games don't have a great look.
✗ The maximum frequency is slower than Intel's processors without integrated graphics.
What Is Intel UHD?
Intel UHD Graphics has been around for several years and debuted by Intel back in 2015 in their "Skylake" architecture lineup. The company introduced Intel UHD 770 in 2022 on the launch of its 13th-Gen "Raptor Lake" desktop processors.
Although Intel UHD Graphics isn't as fast as Iris Xe, making a sufficient choice for budget-minded users that do not require much graphical prowess from their system.
Along with budget considerations, Intel UHD offers better availability – it is available on both laptop as well as desktop processors. The Iris Xe graphics are only available on mobile processors like laptops. 
Moreover, iGPU they don't have their own RAM, neither like CUDA cores or need separate Power supply, since it is integrated both Intel Iris Xe and UHD rely on processor's cores and and hyper threads and also for power supply.
Notable Features
It can support a maximum clock speed of up to 1.45GHz with a memory bandwidth of up to 128GB/s and 96 execution units (specs of Intel UHD 770). 
It can support a maximum resolution of 4096×2160 at 60Hz over HDMI.
Over the DisplayPort, it can support 7680×4320 at 60Hz.
It can support up to 4K 60Hz displays.
Pros and Cons
✓ More budget-friendly option.
✓ Has a better availability.
✓ Uses Intel's Clear Video HD Technology (image processing and decoding tech to improve video playback and quality).
✗ Isn't as powerful as Iris Xe processors.
✗ Older models do not support 4K resolution and HDR.
✗ Graphically intensive games will struggle to smoothly run on older UHD graphics processors
Comparison Table: Intel Iris Xe vs Intel UHD
To better compare Iris Xe and UHD, here's a comparison between the fastest models of the two architectures in the following table. An explanation and a few details will be presented after this table.
| | | |
| --- | --- | --- |
| | Intel Iris Xe MAX Graphics | |
| | | |
| | | |
| | | |
| | | |
| | | |
| | | |
| | | |
| | | |
From the table above, you can see Intel Iris Xe offers a better performance than Intel UHD, but it also demands a higher budget. One of the reasons is that Intel UHD is based on older architecture and is typically found in earlier generations of Intel processors. Iris Xe, being a newer model, offers a significant improvement over previous generations. 
Here are some advantages of Iris Xe over Intel UHD:
Intel UHD also has some advantages over Iris Xe. Here are a couple:
Gaming Comparison – Iris Xe Max vs UHD 770 vs Radeon Vega 8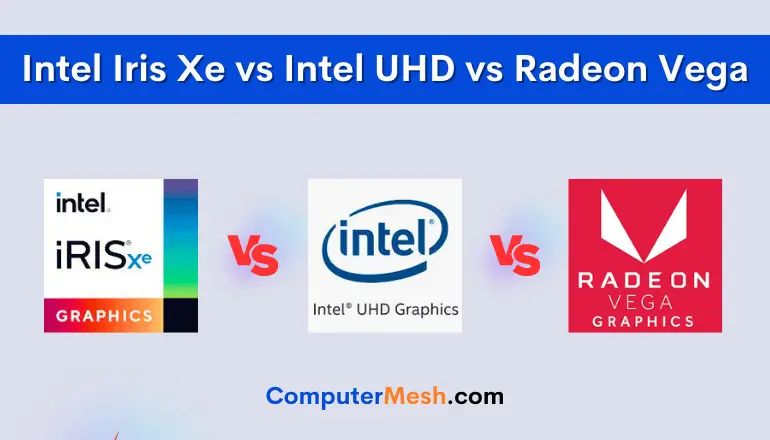 You might expect Iris Xe gaming performance to be better than Intel UHD, but by how much? Comparison with Radeon Vega 8 – integrated GPU from AMD – is also given. Here is a short comparison between the three iGPUs:
1. Shadow Of The Tomb Raider:
At medium graphics settings at 1080p resolution, Iris Xe Max graphics was able to achieve an average of 50 FPS. Intel UHD averaged around half of that – 25 FPS. Radeon Vega 8 averaged around 35 FPS.
2. Total War: Warhammer II:
At 1080p resolution and medium graphics settings, Iris Xe Max averaged 30 FPS while Intel UHD achieved a meager 15 FPS. Vega 8 averaged at 25 FPS.
3. CS: GO:
At 1080p resolution and high graphics settings, Iris Xe achieved 120 FPS while UHD averaged 60 FPS; Vega 8 averaged 80 FPS.
4. Fortnite:
At 1080p resolution and low graphics settings, Iris Xe delivered 60 FPS while UHD achieved 30 FPS; Vega 8 averaged 45 FPS.
Here are key takeaways from the above gaming comparison:
What Laptops Can You Get With Intel Iris Xe & UHD?
For a price comparison of laptops, here are some laptop models with Intel Iris Xe and their prices. 
With Iris Xe:
Dell XPS 13: Starting at $999
HP Spectre x360: Starting at $1,199
Lenovo Yoga 9i: Starting at $1,299
With Intel UHD:
Acer Aspire 5: Starting at $399
Lenovo IdeaPad 3: Starting at $499
HP Pavilion 15: Starting at $599
From the prices of the laptops in both categories, it's evident that UHD models are much cheaper and highly budget friendly compared to Intel Iris Xe. 
Comparing Intel Iris Xe Graphics with AMD's Radeon Vega?
A gaming comparison between the two iGPUs is given above. Here is a brief comparison between Intel Iris Xe and Radeon Vega 8:
Pros and Cons
| Intel Iris Xe | AMD Radeon Vega |
| --- | --- |
| ✓ Faster in most benchmarks | ✗ Slower |
| ✓ Hardware-accelerated Ray Tracing | ✗ No Ray Tracing |
| ✓ More Efficient – Runs Cooler and Quieter | ✗ Runs Hotter and Louder |
| ✗ Available on a smaller range of processors | ✓ Better Availability |
| ✗ More Expensive | ✓ More Affordable |
AMD Radeon Vega delivers a performance somewhere between Intel Iris Xe and Intel UHD (as you see in gaming comparison above). However, Radeon Vega and Intel UHD have almost similar prices; still, Radeon Vega has a better performance.
What is the difference between Intel Iris Xe and Intel UHD?

Iris Xe and Intel UHD are both integrated graphics solutions from Intel. However, Intel Iris Xe is significantly faster and delivers a better performance. They have more execution units, higher clock speeds, and more memory bandwidth. Also, they do cost more than Intel UHD.
Can I upgrade my existing system from Intel UHD to Intel Iris Xe graphics?

You cannot upgrade your existing system from Intel UHD to Intel Iris Xe. This is because Iris Xe is a newer architecture that isn't compatible with UHD architecture. It is like you can't fix an AMD processor or an Intel motherboard.
Is Intel Iris Xe or Intel UHD better for gaming and video editing?

For gaming as well as video editing, Intel Iris Xe is better than Intel UHD, thanks to more power, better clock speeds, and higher memory bandwidth. It can run most modern games in low to medium settings. On the other hand, Intel UHD is capable of running older or less demanding games.
Which Intel processor families include Intel Iris Xe graphics?

Intel Iris Xe is included in Intel's 11th, 12th, and 13th-gen processor families. These processor families are named by Intel as Tiger Lake, Alder Lake, and Raptor Lake, respectively. Some processors that have Intel Iris Xe graphics are Core i9-13900K, Core i5-13600, Core i7-12700KF, and Core i3-1115G4.
How is Intel Iris GPU different from an Intel Arc?

Intel Iris is an integrated GPU built onto the same CPU processor chip. Intel Arc is a dedicated GPU from Intel, and likewise, it can deliver a much better performance. If you decide to go with Intel Arc, you will need a CPU; therefore, the total budget will also go up
Is Intel's Iris Xe future-proof?

If your usage is light, such as simple browsing, working with spreadsheets, or even light to mid end gaming on Windows 10 or 11, then Intel Iris Xe is future-proof for you. Remember, they are still not as powerful as dedicated GPUs, so they aren't sufficient for demanding applications or games.
Verdict Intel UHD Graphics vs. Intel Iris Xe: Which Is Better?
In terms of performance, Iris Xe tops Intel UHD all the time. It has more execution units, power, and clock speeds and is based on a newer, more efficient architecture. 
However, all this power costs more than Intel UHD, a highly budget-friendly option. And if you consider Iris Xe's performance, it isn't too much great. It will just get you by and will always be toppled by a dedicated GPU.
With that in mind, here's a thought for you: what if you get a budget-friendly Intel UHD and combine it with an entry-level discreet GPU? Can you achieve a much better performance at almost the same price as a Laptop with an Intel Iris Xe? 
Let us know your answers in the comments below!