People who bought a PC and a monitor for the first time may not know what to connect, HDMI vs Display port. If you use it accordingly, you can maximize the capabilities of your PC and monitor.
Due to the difference in hardware specs, monitor sizes and resolution, it is not always easy to know which connection is best to use for gaming, bandwidth, or high resolution. I have compared both the video connections: DisplayPort and HDMI (of all the latest versions), to address the characteristics, pros, and cons of each one when choosing the best one. 
HDMI vs DisplayPort
Features of Display Port
DisplayPort is a universal connection technology that is standardized by VESA, designed with much the same goal as HDMI, to provide a single connector for both video and audio that is backward compatible with DVI. Unlike the HDMI connector, DisplayPort has one more pin – only 20 pins.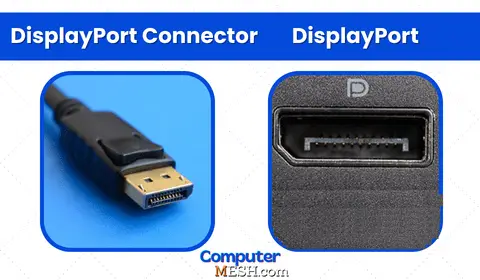 Many claims that it offers higher performance and transmits at ultra-high resolution than any other digital interface, which gives many possibilities considering its compatibility with USB Type-C (alternate mode).
Before the arrival of DisplayPort, we had the DVI connection to reach 144 Hz on many monitors, but it is going to be obsolete as people mainly use either HDMI or DisplayPort. And DVI-D, DVI-I, DVI-A does not have audio either, something that DisplayPort and HDMI do.
You have to control 2 aspects:
The graphics card and version of the DisplayPort port you use.
The version of the monitor's DP port.
It is a port with backward compatibility, but it will adjust to the most compatible option available. Depending on the case, a 4K monitor with 144Hz may run at 60Hz if the GPU port is not version 1.4.
To make it useful to you, following the table showing recent versions of DisplayPort offers:
| | | | | | |
| --- | --- | --- | --- | --- | --- |
| | | | | | |
| | | | | | |
| | | | | | |
| Resolution with Rrefresh rate | | | | | |
| | | | | | |
| | | | | | |
| | | | | | |
Features of HDMI 
HDMI has been on the market for longer. It began its journey in 2002 with version 1.0, while DisplayPort arrived in 2006 under the same version. Over time, DisplayPort has trumped HDMI in some ways and vice versa in others. HDMI uses a total of 19 pins to transmit video, audio, pixel frequency, and other information, and DisplayPort uses 20.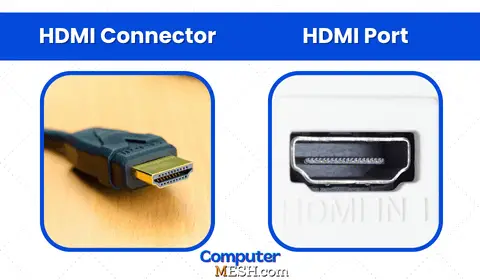 Good to Know ~ HDMI connection predominates in the field of monitors and televisions, whose use is more focused on multimedia like TV, Consoles, media players, PCs than on gaming.
Following the table showing recent versions of DisplayPort offers
Resolution with Rrefresh rate

4K 144Hz (240Hz with DSC)

8K 30 Hz (120 Hz con DSC)

HDR10 on HDMI 2.0a and HLG on HDMI 2.0b

HDR with dynamic metadata (HDR10+ or ​​Dolby Vision, for example)
The reasons why these ports are not attractive for gaming are the following:
The 2021 gaming standard was 1440p at 144Hz.
Current GPUs can deliver much more than 144 FPS at 1080p, so it still needs to be more.
In terms of performance, these versions have nothing to do with DisplayPort.
3 Special Features of DisplayPort and HDMI to Remember
It is convenient to make some clarifications for the acronyms and what they mean:
1. HDR: HDR-enabled monitors (with appropriate support from the graphics card) use 10-bit color depth instead of the traditional 8-bit color depth, which improves on-screen gradation of colors and shades. These extra bits in transmission take up some of the interface's bandwidth, thus reducing the maximum combination of resolution and refresh rate of the monitor that a given version of the interface can support.
For example, the Samsung Odyssey G7 27″ monitor in HDR mode offers a maximum refresh rate of 120Hz when connected via DisplayPort and only 60Hz when connected via HDMI – and don't forget that this monitor is marketed as 240Hz with 1ms response time.
2. DSC (Display Stream Compression): It allows us to overcome bandwidth limitations, a barrier to deal with as we increase resolution and refresh rate. DisplayPort 1.4 inherits it from version 1.2a of the same connection.
3. VRR: AMD and Nvidia both offer their well-known versions of VRR technologies, but with either, the available refresh rate range with HDMI will almost always be less than with DisplayPort.
Being 24 or 27 inch monitor choice for gaming, again the same 27" Odyssey G7 monitor (with HDR turned off), we see that a significantly larger VRR range (from 60 to 240 Hz) is available for DisplayPort than for HDMI (from 48 to 144 Hz).
DisplayPort 1.4 vs HDMI 2.1 – Advantages & Disadvantages
DisplayPort 1.4 vs HDMI 2.1 is interesting because this connection is widely used and easily found on monitors. To avoid making it tedious, I have made a table as a summary to go directly to the subject.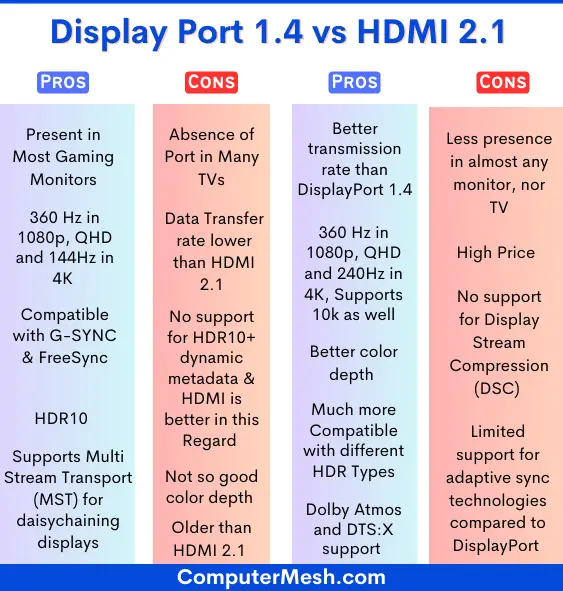 Outlining the pros and cons of HDMI 2.1 vs. DisplayPort 1.4, I'd like to draw some useful conclusions for future regular or gaming monitor purchases. First of all, for monitors, I stick with DisplayPort 1.4; why? For the following reasons :
Many modern flat or even curved monitors of all ranges have this port.
The features it offers are more than enough for the average gamer.
It does not make the product costly, as HDMI 2.1 does.
AMD and NVIDIA are betting more on DisplayPort on their RX 6000 and RTX 3000 graphics cards, and they will continue to do so in the future.
It is necessary to clarify that its direct rival is HDMI 2.0, not 2.1.
On the other hand, if we go to another scenario, it seems that HDMI 2.1 is more useful:
We see OLED models that opt ​​for this connection, and we can enjoy VSYNC with VRR.
The compatibility with Dolby Atmos and DTS: X is a hoot for those who want to live an experience close to a home theater. Dolby Atmos is usually seen on OLED panels.
Its use is more in the multimedia area than anything else, although HDMI Forum does not leave professionals and gamers who want to play on television stranded.
The price is higher side, and DisplayPort dominates this field.
Its rival should be DisplayPort 2.0, but to say that HDMI 2.0 is also good enough for gaming.
DisplayPort vs HDMI for Gaming GPUs and High FPS Monitors
When it comes to high frame rate gaming in Windows 10 or 11, the answer to the question of which is better – DisplayPort or HDMI – is determined by the graphic card: if your GPU in your favorite games does not increase the rate to 144 fps and above, then by and large it does not matter which connector you use, HDMI or DP.
For example, while playing Spider-Man Remastered on PC at 4K resolution and medium quality settings, none of our test cards delivered a stable 144 fps or higher. However, the Nvidia RTX 3090 came close (along with the AMD Radeon 6950 XT) that is suitable for gaming at 4K resolution with a refresh rate of 120Hz or higher.
While it's unlikely that you'll achieve this maximum frame rate in every game, using VRR (variable refresh rate) technology will ensure a consistently smooth image.
For high-speed gaming, graphics card performance matters more than display interface choice.
Moving down the price range like an excellent Radeon 6700 XT and GeForce RTX 3070 cards well suited to 1440p @120Hz or 1080p @240Hz combinations. The actual frame rate will, of course, depend to a large extent on the game itself and the level of graphics settings chosen – high-speed gaming almost always comes with these kinds of compromises.
The best options for 1080p gaming are the Radeon 6600 XT and GeForce RTX 3060, but if you're playing at over 100Hz refresh rates (with VRR), you'll need to lower some graphics settings in many games.
All this is especially true if you are targeting 1080p and 360Hz settings (something like that). This is a typical combination for professional esports, and for good gameplay at this frame rate – even if you reduce the level of detail – you still need a top-level gaming computer equipped with a video card of $1000 or more.
FAQs
Can DisplayPort version 1.4 render 4K at 120Hz?

The advantage of DisplayPort is that it has high specs, and version 1.4 can render 4K at 120Hz.
What to do when only one DisplayPort or HDMI is on a PC?

When there is only one DisplayPort or HDMI port on your computer, or you want to connect more monitors, a "conversion adapter" is useful in such cases. These adapters convert the HDMI terminal on your computer to a DisplayPort terminal on your monitor and vice versa, but when choosing this adapter, be careful about "which side is the output side."
Do DisplayPort and HDMI carry audio?

Yes, both DP and HDMI carry audio. The HDMI from 2.0b version introduced audio support, going from supporting 16-bit to 24-bit sounds, while DisplayPort has supported it since its first version. HDMI 2.0 and DisplayPort 1.4 both support 32 audio channels at 1536 kHz.
Which is best for G-Sync or AdaptiveSync support, DisplayPort vs HDMI?

To use G-Sync or AdaptiveSync, it's best to use DisplayPort version 1.2a and above as it fully supports these technologies. At the same time, HDMI does not offer it until 2.1 with VRR support.
How many monitors does DisplayPort support?

DisplayPort for the resolution 8k support 1 Monitor, resolution 4k support 2 Monitors, resolution 2k support 4 Monitors, Full HD resolution support 8 Monitors, and for HD resolution support 10 Monitors.
Which one has longer cable support HDMI or DisplayPort?

HDMI is in a better light as it supports much longer cables than DisplayPort. For example, for a 4K 60Hz, DP 1.4 is usually recommended, in which case you are limited to a cable length of about 2 meters, even if it is a high quality cable. If you convert the same display configuration to HDMI, the cable length can be extended up to 6 meters.
Why does my GPU have more Display ports than HDMI ports?

It's worth noting that HDMI adoption in the computer segment was slow. By the time VGA and DVI became obsolete, DisplayPort had already emerged, surpassing HDMI in many aspects. Nowadays, HDMI is mainly used for TVs and game consoles, which is why Graphic card manufacturers prefer to include multiple DP ports in their models.
Final Words
It shouldn't surprise you that DisplayPort is the best connectivity option for high-speed gaming and general PC applications. The latest version of HDMI is very good, but this interface is from the category of "multi-station": it supports TVs, game consoles, media players, and personal computers too.
However, the price to pay for such a wide range of applications is less pure performance than DisplayPort, and the latter provides better support for high resolutions, refresh rates, and other gaming features.
And with this, I hope you find the comparative review of DisplayPort vs HDMI insightful.