Are you a computer user looking for guidance when picking the right size monitor? You've come to the right place! In this post, I'll be talking about different computer monitor sizes and use cases.
I know how overwhelming it can feel when trying to find the perfect device that meets all your wants and needs, with all the different shapes and sizes of monitors available these days.
With so many options, it can be challenging to determine which one will suit your needs — read on to become an absolute expert in picking output displays by user and purpose!
First of all, What is an Inch in Monitor Sizes?
"xx inch" indicates the size of the monitor, which represents the "diagonal length" of the screen. Since 1 inch is converted to centimetres, it becomes "approximately 2.54 cm", so it is possible to calculate the number of inches of the monitor by "diagonal length (cm) ÷ 2.54 cm".
1 inch = 2.54 cm = 25.4 mm
10 inches = 25.4 cm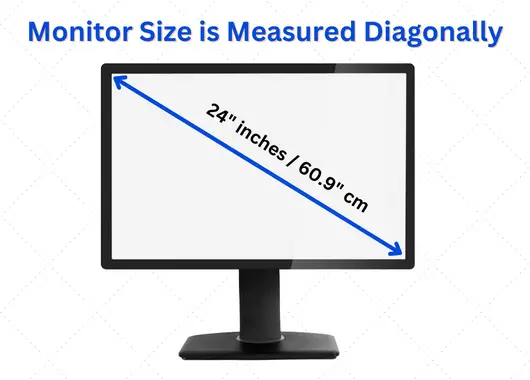 Remember, when it comes to computer monitors, not only does the screen size matter, but also the edges. It's possible for two 24-inch models to have a little different size screen due to the bezel design, which ensures they stay securely attached and don't slip off!
Computer Monitor Sizes Chart
This computer monitor sizes varies depending on the aspect ratio, which is the length ratio to the width of the display. Roughly speaking, there are "wide monitors" with a width-to-height ratio (aspect ratio) of 16:9, "square monitors" with 4:3 or 5:4, and "ultra-wide monitors" with a ratio of 21:9. monitor.
The current mainstream aspect ratio is 16:9, and many monitors are available in the market with this ratio.
The above numbers are the screen's dimensions only, excluding a monitor's bezel (frame part) with an aspect ratio of 16:9.
It is also possible to check the size from the manufacturer's model number.
Depending on the product, the monitor model number (product number: number or symbol attached to the model) may include a number indicating the number of inches. The display method differs for each manufacturer, but you can determine the monitor's screen size by checking the product's model number, so it is a good idea to keep in mind.
Features of different monitor sizes
Now that you know all the computer monitor sizes chart, it's time to talk about the use case of monitor sizes. The reality is that there is a wide variety on the market, and sometimes it takes time to decide on one or the other.
Since each monitor has characteristics fit for different usage scenarios, it's not always the case that the bigger the monitor, the better. To use it comfortably, it's essential to choose a monitor that's the right size for your use and environment. I have categorized the features and specific use cases of each monitor size.
20 Inches or Less – Small and Space-saving
Monitors of 20 inches or less are generally compact. These monitors are mainly used in offices and other small spaces. This size's advantage is that it can be easily installed in tight spaces, such as on a desk or shelf.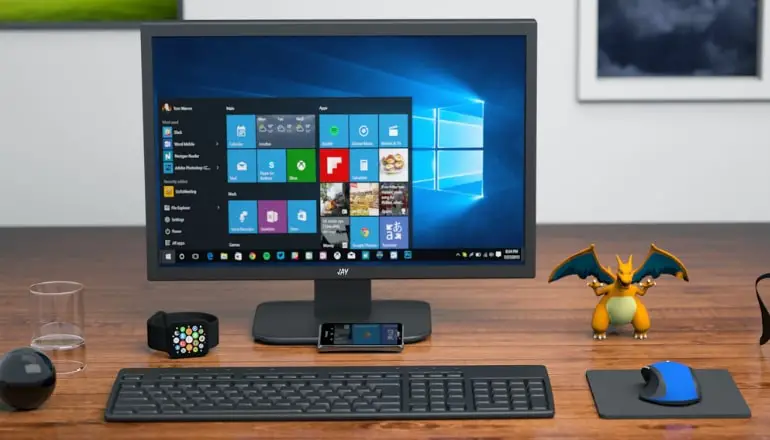 Despite its small size, which makes it ideal for tight spaces when installing, the downsides are apparent. With a smaller screen than usual, detailed work becomes more difficult to manage and can be strenuous on your eyes if used over extended periods. Therefore, this device is unsuitable for long-term or extended hours of use.
It is recommended to get 20 inches or less sized monitors as a sub monitor or when detailed work is not required.
21 to 26 Inches – Perfectly Balanced
These sizes are generally standard as they can be used in many situations for watching videos, gaming, business use and editing work, too, as they offer a balance between the ease of viewing and the screen size.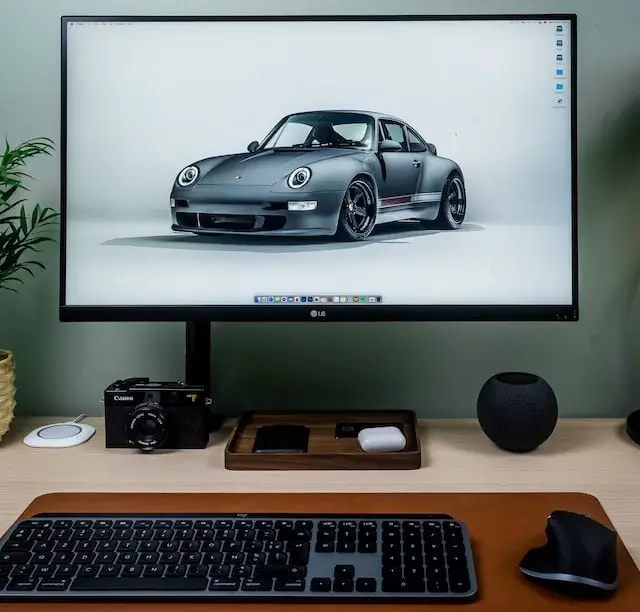 The size is large enough for people working on multiple tasks simultaneously, as it has a wide field of view that allows you to check multiple windows, tabs and applications simultaneously. Additionally, their larger size makes these monitors suitable for video conferencing and other activities requiring visibility.
The most mainstream computer monitor sizes in the market are 22 ~24 inches, and anyone who doesn't know what size to choose is right here. From FPS, refresh rate, response time everything is suitable for many purposes.
Models around 24 inches are best suited for FPS games because If you play FPS with a size larger than this, the image quality and power will increase, but the display of enemies, your HP bar, and the number of remaining bullets may be out of your field of vision.
Rather than violently moving your eyes, focusing on the monitor with a product around 24 inches is better, and it will be reflected in the results.
27 Inches or Larger – Visibility and Comfort
Anything over 27 inches diagonal is considered a large size for a computer monitor are required only for specific tasks. An ordinary PC user does not need such a monitor. These monitors are much more expensive than standard 21-24 inch models.
It requires ample space for installation. As long as you have enough desk space to install the monitor, there's nothing better than using a large monitor to watch movies.
The large screen improves workability, offers you a wider field of view and is suitable for many uses such as work and games, notably in watching movies or videos.
Gaming on a larger screen is often advantageous as it allows gamers to quickly identify enemies and items, particularly immersive and smoother experience in high graphics story mode games without overclocking monitor.
However, due to the monitor's size, some games may be hard to play if they have resolution or frame rate issues with monitor. If this occurs, it's best to lower the resolution or turn on Vsync.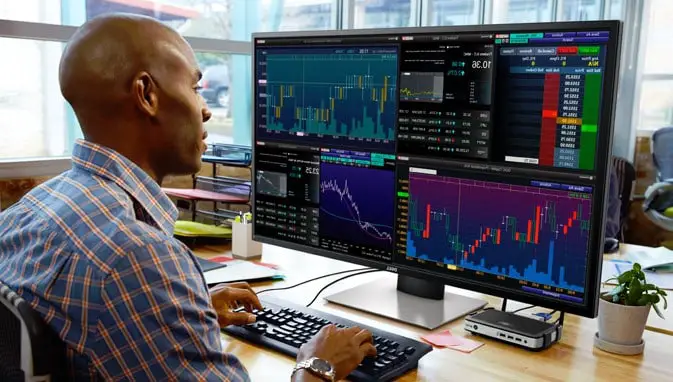 Professionals who require precise visuals, such as designers, illustrators, and traders who market analysis, can maximize their productivity with a 27 Inch monitor or larger. Not only does it allow for multitasking by displaying multiple windows side-by-side, but also its high resolution reduces eyestrain when viewing text and images from a distance.
But be aware that if the monitor is too close to your eyes, it might be tough to make out the screen clearly or eye strain, so keep an appropriate space between you and the large display!
But be aware that if the monitor is too close to your eyes, it might be tough to make out the screen clearly or eye strain, so keep an appropriate space between you and the large display!
Ultra Wide Monitors Sizes
For those seeking more display options, an ultra-wide monitor with a 21:9 aspect ratio is the ideal selection. Working on multiple documents and applications, as well as switching between windows simultaneously becomes much simpler when using this type of monitor.
Gamers also have the opportunity to revel in an incredibly immersive experience! Additionally, some models even come equipped with screen splitting software that allows for quick and easy arrangement of multiple windows – ensuring maximum efficiency every time!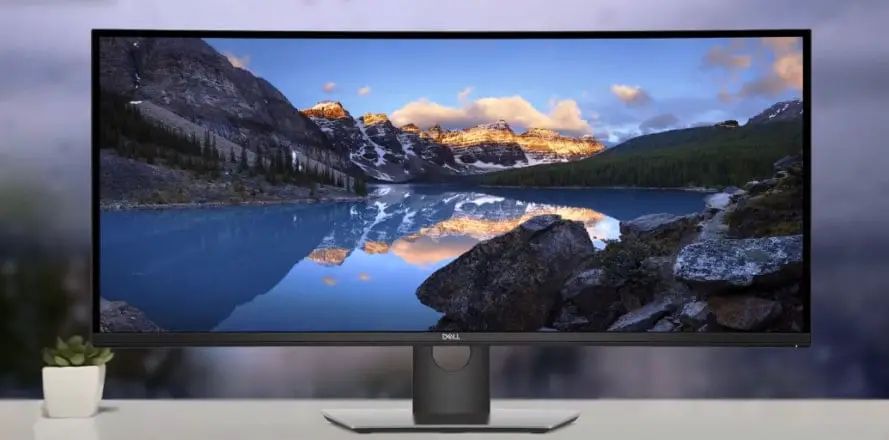 You also have the option of selecting a dual monitor set-up. The only disadvantage it has when compared to ultra-wide monitors is the bezel that separates both displays; however, if you require an extra screen for multi-document workflows then this won't be an issue. Dual Monitors are commonly seen in office settings and usually contain two similar 22″ to 24″ screens.
Some models have a 16:10 ratio between the long and short sides. This can be safely considered wide.
If the flat monitor's width and the curved monitor's circumference are the same, the curved monitor will have a slightly narrower width (the user's viewpoint movement will also be slightly shorter).
The curved monitors has their pros and cons, still it is good for watching movies and playing games as the image appears more immersive than any flat monitor, although you must have adequate distance and space.
For creators such as illustrators, photo editors and web designers, because many people see creations on a flat monitor, creators should create from a flat perspective as well. This enables them to generate the best results for their projects.
So what is the relationship between monitor size and resolution?
The resolution represents the fineness of the display that can be displayed on that monitor.
Recommended resolutions as per the monitor sizes:
For 1600×900, 21 inches or less sized monitor is recommended.
22 and 24 inches monitor is recommended to go with full HD (1920×1080) * 27 inches (no problem for games, but feels rough for work or everyday use)
For Quad HD/WQHD (2560×1440), 27 inches is recommended.
For 4K, 27 to 32 inches is recommended.
Final Words
Computer monitor size is an important factor to consider when looking for a new monitor, as it will determine the clarity and visibility of the display. The monitor's resolution must match its size, or else it can cause strain on the user's eyes.
Ultimately, the choice is yours. But before you make a decision, I suggest going to a store and reviewing monitor sizes in person. It's easy to underestimate the difference between 24 and 27 inches when shopping from home; the however physical view will reveal that it truly makes an impact! I was torn between these two measurements initially, but it's pretty noticeable once hands-on use came into play.
I hope this article gave you an insight into the different computer monitor sizes available and what purpose each of them serves.