Wireless functionalities are always nice and super convenient to have in a PC. However, most of these are only included in top-of-the-line motherboard models.
Desktop PCs typically lack wireless connectivity, meaning you will have to go through a long and arduous struggle of running cables all over your house. Furthermore, you can't even use Bluetooth connectivity.
Ahead you will learn about different wireless hardware you can install in your system to enable wireless functionality. These will include different techs for accessing Wi-Fi and Bluetooth on your system.
Different Wireless Hardware for PC
A. Wi-Fi Adapters
Budget and entry-level motherboards rarely come with built-in Wi-Fi functionality to keep costs down. Mini-ITX and Micro-ATX motherboards also typically lack this feature by default because of space constraints.
However, you do have a few easy after-market options to connect to the Wi-Fi without going through the struggle of running ethernet cables all over room and your house.
1. PCIe Wireless Network Interface Cards (NICs)
These are the cards that offer the most power, primarily in terms of speed. They plug into the PCIe port in your computer – the port looks like the slot where you plug in your graphics card. 
They typically include two antennas that help boost Wi-Fi signal reception. Couple that with their feature to pair with the modern wireless standard Wi-Fi 6 (runs on 802.11ax frequency channel), and you get the fastest download and upload speeds.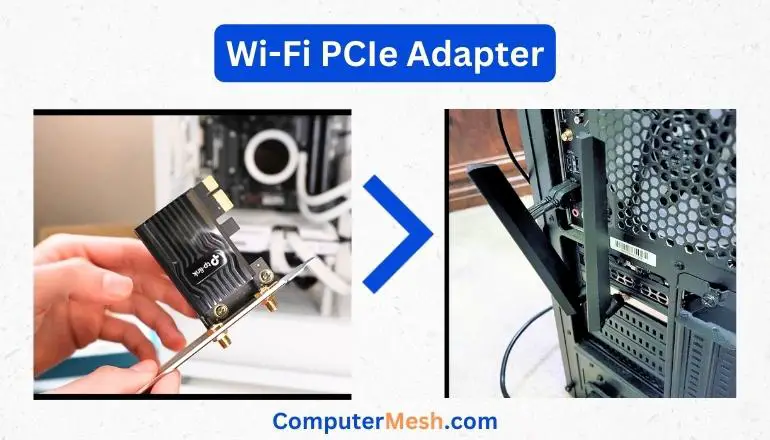 Moreover, PCIe cards are typically combo cards, offering Bluetooth functionality as well.
However, these cards aren't very flexible, as you will have to open your PC case each time you want to access or remove your PCIe card.
Some Popular PCIe Cards In The Market
TP-Link WiFi 6 AX3000:
Features:

Speed 3000 Mbps – 2402 Mbps (5 GHz) + 574 Mbps (2.4 GHz)
2 External Antennas
Supports Bluetooth 5.2
Costs around $47
Asus PCE-AX58BT
Features:

Wi-Fi 6 Card
Speed 3000 Mbps
2 Internal Antennas
Supports Bluetooth 5.0
Costs around $50
Intel AX200:
Features:

Wi-Fi 6 Card
Speed 2400 Mbps
2 External Antennas
Supports Bluetooth 5.0
Costs around $22
2. USB Wi-Fi Adapters
The next on the list are USB Wi-Fi adapters, sometimes called USB Wi-Fi dongles. These offer incredible flexibility – just plug into a USB port, and you're good to go!
They take up minimal space, and you get easy convenience; however, you will have to sacrifice some power. PCIe cards have a direct dedicated channel to the motherboard, making them faster than USB ports.
USB Wi-Fi adapters come in two different forms – internal and external. The difference is pretty simple – the internal adapter only needs to be plugged into a USB port on your motherboard which makes it almost invisible when installed while an external adapter takes up space and has a long cord that connects it to the motherboard's USB port.
On the other hand, USB adapters have to share bandwidth with other connected devices on the USB bus at an already reduced processing power such as external hard drives, keyboards and mice.
Additionally, they rarely offer any Bluetooth functionality, which is typically common in PCIe cards as well as USB has high ping than PCIe card relatively.
Some Popular USB Wi-Fi Adapters In The Market:
TP-Link Archer T4U Plus
Features:

Dual Band Wi-Fi 6 Adapter
Speed 1300 Mbps – 867 Mbps (5 GHz) + 400 Mbps (2.4 GHz)
2 External Antennas
Costs around $24
TP-Link TL-WN725N
Features:

Small and simple desin
Max 150mbps in 2.4 GHz
No antenna
So affordable around 10$
3. Mini PCI And PCMCIA Adapters
Both Mini PCI and PCMCIA adapters are cards that are used to provide wireless internet connectivity, primarily on laptops. 
The difference is: Mini PCI is usually found in newer laptops, while PCMCIA is used in older models. Mini PCI cards offer better range and performance; therefore, PCMCIA cards are phasing out.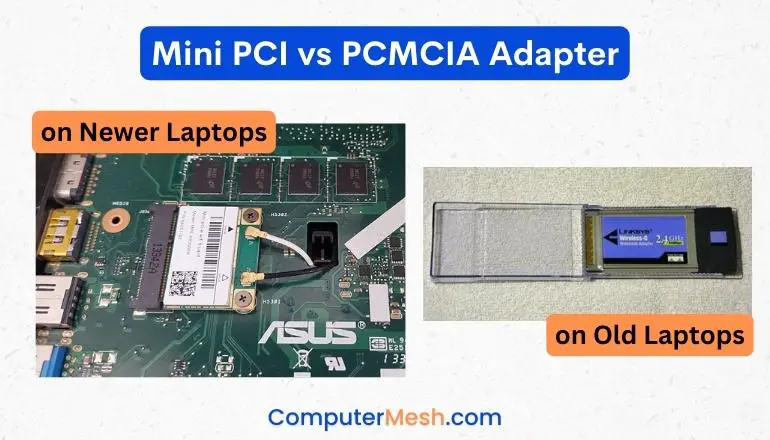 Here's a quick summary of the differences and usage of both of these cards:
| Feature | Mini PCI Adapter | PCMCIA Adapter |
| --- | --- | --- |
| Size | Smaller | Larger |
| Popular In | Newer laptops | Less common but compatible with older laptops |
| Performance | Better performance and range | Less powerful |
| Plugs into | Mini PCI slot and takes lesser space on laptops | PCMCIA slot (aka PC Card slots) |
Mini PCI vs PCMCIA Adapters
Some Popular Mini PCI And PCMCIA Wi-Fi Adapters In The Market:
Intel Dual Band Wireless-AC 7260:

867 Mbps in the 5 GHz Frequency Band and 400 Mbps in 2.4 GHz

2 Slots For External Antennas
Asus PCE-AC5:

867 Mbps in the 5 GHz Frequency Band and 400 Mbps in 2.4 GHz
B. Mobile Broadband (Cellular) Adapters
These aren't exactly Wi-Fi adapters. However, they let you connect to the internet via your cellular network. You can access 5G, 4G, 3G, or LTE internet via your mobile network. 
Just remember to subscribe to a suitable internet subscription offered by your mobile network operator (MNO); these internet packages tend to cost more than broadband internet providers, especially if you access the internet without a data plan.
Mobile broadband adapters are available in different form factors, including PCIe adapters and, more popular – the USB adapters or data card.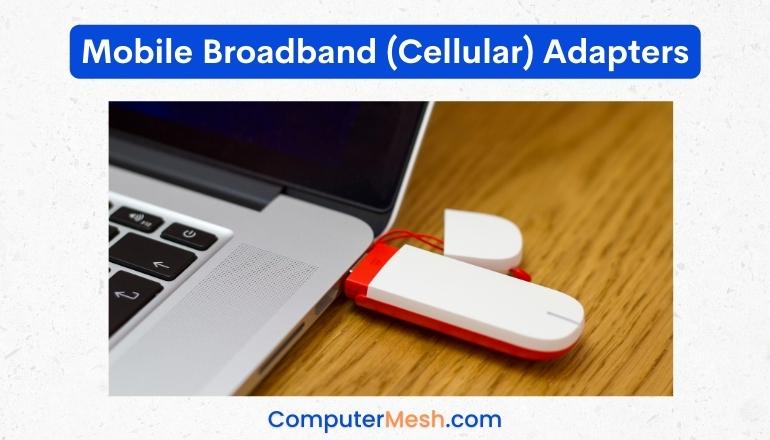 A popular and one of the most affordable USB adapters in the market is D-Link DWM-156. It is a 4G LTE USB adapter that supports speeds up to 150 Mbps and costs around $20.
Pro Tip: With your phone and a USB cable, you can access the internet on your PC via USB tethering. What is it? Stay tuned to learn more. 
Which Is The Right Wi-Fi Adapter For You?
Choosing the right Wi-Fi adapter depends on different factors, and I will summarize a few in the comparison table ahead. However, here's our quick two cents:
| | | | | |
| --- | --- | --- | --- | --- |
| | | | | |
| | | | | |
| | | | | |
| | | | | Depends on the Tower's location |
| | | | | |
| | | | | |
| | | | | |
C. Bluetooth Adapters
Most PCIe Wi-Fi cards are typically combo adapters, meaning they also have Bluetooth functionality. However, if yours doesn't, or you need just the Bluetooth functionality, you can purchase plug-and-play USB Bluetooth adapters. 
Bluetooth adapters are an excellent piece of hardware that can help you eliminate cables from your table to give you a clutter-free experience. They can connect headphones, mice, keyboards, smartphones, speakers, printers, and game controllers.
Some Popular Bluetooth Adapters In The Market:
ZEXMTE Bluetooth Adapters
Features:

Supports Bluetooth 5.0
Range of up to 65 feet
Best value for money
Costs around $9
TP-Link UB 400 Bluetooth Adapter
Features:

Supports Bluetooth 4.0
Range of up to 65 feet
Costs around $10
Mainly Bluetooth adapters almost look like Wi-Fi USB adapters.
How To Select The Right PCIe Card For Your PC?
PCIe cards are the best option to connect to Wi-Fi as well as Bluetooth wirelessly. Therefore, here are a few tips for you to choose the correct PCIe wireless adapter for your PC:
1. Compatibility
Start by ensuring you have a compatible PCIe x1, PCIe x8, or PCIe x10 slot on your motherboard. All motherboards today have at least one PCIe slot available; if yes, you can use expansion cards. 
2. Wireless Standard
Wi-Fi 6, or 802.11ax, is the latest wireless standard. Therefore, you will need a card that supports your network for the fastest speeds. These cards are typically backwards compatible as well, so it will still be beneficial as you future-proof your system if you upgrade to the latest network down the road.
3. Speed, Performance, and Budget
You will want the fastest PCIe wireless adapter if you are a heavy user, such as competitive gaming in Windows 10 or 11. If you are just a casual user, 100 Mbps is the minimum recommended speed to participate in video conferencing and streaming HD videos. Therefore, you can purchase one that matches your budget and performance requirements. 
4. Bluetooth Support
Bluetooth is always nice to have; it is pretty popular in desktops these days to connect your peripherals wirelessly and reduce the clutter on your desk. PCIe wireless cards typically have Bluetooth support, and you can double-check if needed. 
5. Frequency Bands And Channel Widths
Bluetooth and legacy wireless networks operate at the 2.4 GHz frequency band. The 2.4 GHz band covers a wider range, but it isn't as fast as 5 GHz. 5 GHz covers a narrow range, but it also offers faster speeds. 2.4 frequency bands have different channel widths – enabling multiple devices to connect to a single device simultaneously.
Therefore, you will need a PCIe card that covers both frequency bands.
Click here to learn more about WiFi channel widths. 
6. Number And Size Of Antennas:
Lastly, you will need to look at the antenna's physical appearance and ensure it fits inside your PC's footprint. Some users don't like the external antennas poking out of their system; on the other hand, leaving the antennas inside might reduce signal strength. In that case (pun intended), dual antennas will provide better signal reception than a single antenna. 
Final Thoughts
Hardwired internet always results in the fastest speeds. However, running cables all over the house is laborious and not feasible most of the time. 
In these circumstances, wireless adapter work best. You learned a few tips above that can help you choose the right one depending on your budget, speed, and performance requirements. These also give you Bluetooth functionality to wirelessly connect your keyboard & mouse. 
USB adapters are your other choice to access Wi-Fi or Bluetooth (but rarely both). These offer incredible convenience to swap between different PCs with just plug-and-play. You will have to sacrifice performance for ease of use on these ones. 
So, what do you think is your choice and why? Let us know in the comments!